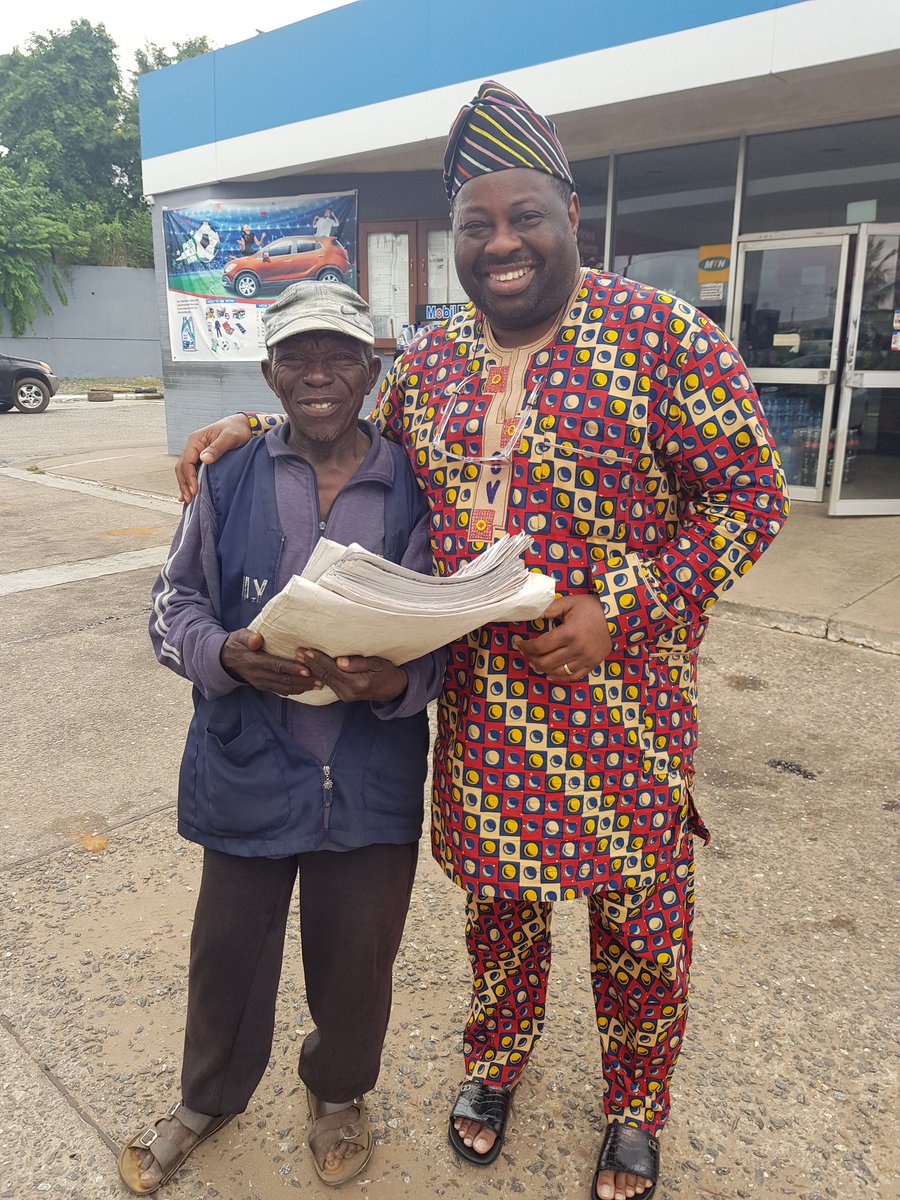 Owner of Ovation Magazine, Mr Dele Momodu was in Ibadan, the capital of Oyo state recently and shared a photo(above) of himself and 'his dear friend' of 20 years, Mr Olushola Adu, a newspaper vendor. Mr Momodu sounded really happy to share the photo which seemed like a harmless one but probably didn't expect what came net. The media mogul got a lot of bashing from some Nigerians on social media, who were of the opinion, that Momodu isn't a good friend to the old man.
Some of them queried why Mr Adu should still sell newspapers, when he has a good friend such as Mr Momodu. See what he shared below;
I'm always happy to visit my dear friend of two decades MR OLUSOLA ADU a very dutiful newspaper vendor in Ibadan… Our love is deep… pic.twitter.com/JNeW3s7VW3

— Dele Momodu Ovation (@DeleMomodu) June 18, 2018
See reactions from Nigerians below
Oga @DeleMomodu Do something for your 'dear friend of two decades'(and I will be surprised if you haven't) His state should be a challenge to you

— Tope Olanrewaju (@Topeolanrewaju) June 18, 2018
Sir you have been his friend. For two decades,and he looks this way. Your magnanimity is needed in his life

— ifechukwu ume (@Iffylo) June 18, 2018
Give my grandPa hundred of clothes he won't wear more than 3 for the year..Give him all the money in Central Bank he won't spend more than 50k for the year…Tell him to stop going to farm and you just murdered a soul..They just love what they do and money means nothing to them..

— Ekundayo Busayo (@busaur82) June 18, 2018
I think you wld be judgemental if you go this route.

Can a man meet the wants of EVERY INDIVIDUAL that crosses his path just bc he is perceived to be rich?

If Délè didn't post this, wld you have had anything to say? Have you ever wondered why there are social clubs?

— Basil Onome (@bpintemi) June 18, 2018
Alaye help your friend of 2 decades .

— Education technology (@Adeeze1) June 18, 2018
You have all it takes to take your friend of two decades, a newspaper vendor out of poverty. Sharing this picture now makes you what?? Shitty deep love….

— iKing's Technologies (@akoguntaryour) June 18, 2018
The post Nigerians bash Dele Momodu for not helping his friend that sells newspapers appeared first on INFORMATION NIGERIA.